Educators to Test-Drive Pearson's Common Core State Standards Programs at National Council of Teachers of Mathematics Conference
iPads, Androids, Tablets to Showcase etexts, digital programs; Assessments and Professional Development to Ensure College and Career Readiness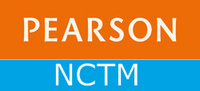 Indianapolis, IN, April 11, 2011 — The Indiana legislature is currently considering a bill that would move all classroom instruction completely digital by 2014. With that innovative push percolating as a backdrop, math educators from every corner of the nation are flooding Indianapolis for the 2011 National Council of Teachers of Mathematics' (NCTM) conference April 13-16.
Nationwide upwards of two million teachers will be preparing to implement the new Common Core State Standards over the next three years. At the NCTM conference, educators can test-drive more than a dozen Pearson programs on ipads, androids, tablets, and laptops:
enVisionMATH Common Core ©2012 (grades K-5) – Available as a fully digital, print or blended program, enVisionMATH Common Core is fully written and organized to meet the Common Core State Standards for Mathematics through visual instruction, problem-solving skills, and quantitative reasoning.
Investigations in Numbers, Data, and Space® (grades K-5) – An inquiry-based approach to teaching mathematics through engaging activities, discussion, and problem solving; includes new Common Core State Standards grade-level components.
digits (grades 6-8) – Pearson's new all-digital comprehensive middle grades program built around the Common Core State Standards. digits combines anytime, anywhere web-based applications with point-of-use interactive whiteboard resources.
Prentice Hall Middle Grades Mathematics – Common Core Edition 2012 (grades 6-8) – This new edition of Pearson's research-based middle school math program is 100 percent correlated to the Common Core State Standards, featuring daily, integrated intervention.
CMP2 (Connected Math Project 2) (grades 6-8) – The CMP2 curriculum provides complete coverage of Common Core State Standards with additional student investigations to ensure exact grade level alignment, and is accompanied by a Common Core State Standards implementation guide and support materials for teachers.
MathXL® for School (grades 6-12) – Through rich, multimedia resources aligned to the Common Core, MathXL® for School personalizes students' learning experiences with immediate feedback, interactive learning aids, and practice.
CME (Center for Mathematics Education Project) (grades 9-12) – CME Project is a four-year comprehensive high school mathematics program that entirely covers the Common Core State Standards and the Standards for Mathematical Practice.
Prentice Hall Algebra 1, Geometry and Algebra 2 – Common Core Edition ©2012 (grades 9-12) – Available as digital, print or a blend of both components, this new Common Core Edition of Pearson's high school mathematics program ensures full coverage of the Common Core State Standards and embedded development of the Standards for Mathematical Practice.
MyMathLab (grades 9-12) – Pearson's digital MyMathLab program, which differentiates and personalizes each student's learning experience and has been proven effective in improving student achievement, is now aligned to the Common Core.
Mathematics Navigator (grades 2-10) – Mathematics Navigator is a supplemental, intervention program that aligns to the Common Core State Standards and prepares students for studying the higher-level mathematics necessary for college and career readiness.
Ramp Up Mathematics (grades 6-9) – A rigorous, yearlong math intervention course, Ramp Up Mathematics accelerates the learning of middle and high school students who are far behind grade level – all aligned to the Common Core.
Advanced Placement, Honors, and Electives – print and digital formats matched to the Common Core standards.
Orleans-Hanna Algebra Prognosis Test – A problem-solving assessment, the Orleans-Hanna, provides teachers, counselors, students, and parents with objective results to support decisions about students' readiness for algebra course placement.
Sessions on these programs as well as Pearson's assessments and extensive professional development workshops and custom teaching effectiveness trainings for the Common Core State Standards will be available during the four-day conference at Pearson's booth #1717. Learn more at http://www.PearsonSchool.com/NCTM2011.
Educators can also hear about the latest and greatest happenings at NCTM by following Pearson on Twitter @pearson.
About Pearson
Pearson, the leading education, technology and services company, is creating a complete new system of instruction built around the Common Core Standards. Teachers and students will access the latest and most effective digital learning technologies as they prepare to meet the internationally benchmarked college readiness goals articulated by the Common Core Standards. The new instructional system will engage both teachers and students within a learning model that enables teachers to assess students unobtrusively, diagnose their learning needs swiftly, prescribe personalized learning, and monitor student progress for continuous improvement in student achievement and teaching effectiveness. Pearson has as its mission to work side-by-side with states, districts, teachers, students and parents to ensure that every child is prepared for college and career. For more, visit. http://www.pearsoned.com/commoncore.
Contact: Kate Miller, kate(dot)miller(at)pearson(dot)com; 800-745-8489