Michigan Approves Pearson to Help Improve Struggling Schools
Pearson K-12 Solutions Recommended as Partner to Provide School Turnaround and Professional Development for Teachers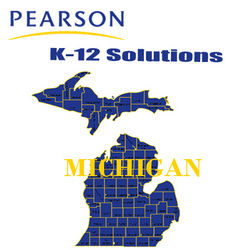 New York, NY, August 9, 2010 – Michigan has approved Pearson K-12 Solutions to partner with the state to help turn around its struggling schools and provide professional development training for teachers. The state has identified 108 elementary, middle, and high schools in need of improvement.
Pearson K-12 Solutions president Scott Drossos said, "The need to improve Michigan's underperforming schools is urgent, and we're privileged to have the opportunity to partner with the committed educators, parents, and students in the state to make the systemic changes needed to turn these schools around." He added, "Our goal is to work together now to help improve those schools the state has identified as persistently under-achieving so that today's young people and the students that will follow them will be prepared for the challenges they will face in our 21st century global economy."
Drossos noted that Pearson's comprehensive research-based School Turnaround Education Partnership (STEP) model helps schools make fundamental changes that will sustain improvements for the long term. He said, "We have the opportunity to draw from Pearson's vast resources — including curriculum, assessment, technology, and professional development for teachers at every stage of their careers — to create a customized, coherent improvement plan for the struggling schools in Michigan."
A further testament to Pearson's capabilities to serve Michigan schools is the additional approval by the state of the Pearson Learning Teams model. Pearson Learning Teams provides an explicit framework to guide teacher collaboration efforts and build leadership capacity of administrators and teacher leaders. Michigan's Vandenberg Elementary School was recently awarded a $65,000 grant to implement Pearson Learning Teams. The grant was awarded through the Pearson Learning Teams/Michigan Elementary and Middle School Principals Association Professional Development Partnership.
Pearson is underwriting the cost of implementing Learning Teams for one year to showcase its potential at Vandenberg Elementary. The school has been engaged in a rigorous improvement plan and implementation process for several years, with a focus on research-based practices. As a result, students at this Title I school have experienced steady gains in academic achievement, and the school's improvement plan has become a model for state training sessions.
Drossos said that for students, a positive school culture is linked to a strong sense of school membership, which in turn is linked to academic and behavioral outcomes — including reduced dropout rates. The Pearson STEP model strives to help schools create a culture that is family-friendly and safe, where all students and families are respected, and where students feel connected to their learning and their school, and where expectations are high.
Pearson K-12 Solutions' School Turnaround Education Partnership (STEP) plan includes a combination of 10 core elements that have helped improve underperforming schools for years, and has consistently demonstrated gains in student achievement as well as in school culture and distributed leadership:
Systematically Plan for School Improvement
Develop Instructional Leadership
Create Collaborative Education Partnerships
Emphasize School Culture
Embed Achievement Support
Align Curriculum
Optimize Conditions for Teaching & Learning
Foster Knowledge Driven Decision-making
Utilize Technology for Learning
Evaluate for Continuous Improvement
Drossos noted that Pearson is making unprecedented levels of investment in new models for education and that the company is committed to providing a broad spectrum of solutions and services to schools to ensure that their teachers and students are successful.
About Pearson
Pearson (NYSE:PSO), the global leader in education, teacher training, education technology and school solutions, provides innovative print and digital education materials for preK through college, student information systems and learning management systems, teacher professional development, career certification programs, and testing and assessment products that set the standard for the industry.
Contact
kate.miller@pearson.com – 800-745-8489
---